A friend and colleague, Los Angeles-based Dr. Tipikan "Tom" Baholyodhin, passed away suddenly and unexpectededly July 31, 2001, at age thirty-six.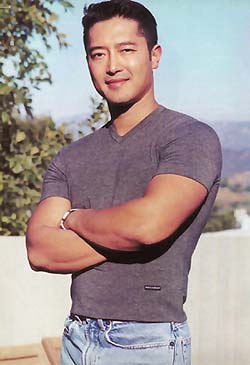 Some of you may remember Dr. Tom (as he liked to be called) as the writer of a number of medical columns for A&U last year and early this year. His relationship with A&U began in late September 1999, when he sat for an interview with Ruby Comer, writer for the Ruby's Rap column for the past two years. ["East Meets West," December 1999]. Dr. Tom had lost his lover, Rawley, some years before to AIDS and become a specialist in internal medicine, with an emphasis on HIV/AIDS-related illnesses. Half his client load were people living with the disease. So A&U tracked Dr. Tom down, requested a one-on-one interview, and began a year-and-a-half relationship with the good doctor.
Ruby has a special story about that fateful interview: "I spoke with Dr. Tom at his Laurel Canyon home, and found him to be a gracious host, forthcoming, and utterly candid. About a week after the interview, UPS delivered a box to me. Opening it, I found a pretty Thank You card and under that gift: a Tiffany clock. What a surprise! In all these years, that was the first gift I ever recieved from an interviewee. But, spookily, the clock's battery stopped soon after we heard of his death."
Born in Thailand in April 1965 to a prominent Thai political family (labeled "the Kennedys of Thailand"), Tom's grandfather had been Prime Minister. The boy grew up surrounded by wealth and power, although at the age of ten he was sent to London to live because of political unrest in the ancient kingdom. As he grew up, he was drawn to medicine and eventually matriculated from a London medical university. After moving to the U.S. at age twenty-six, with his lover Rawley, he eventually settled in Los Angeles. Dr. Baholyodhin was a Board Certified Internist in the United Kingdom and held a title of Doctor of Internal Medicine over here.
After Rawley died six years ago, Dr. Tom turned from pulmonary critical care to HIV treatment. He became a major part of the West Hollywood gay community, participating in much of its social life. Eventually he met Kevin Henderson, his boyfriend at the time of his death. Acoording to Henderson, Dr. Tom was recently discovering more of himself by practicing his native religion, Buddhism, an important component in his spirituality. "He really enjoyed spending time alone, fixing up the house, playing with his two Wheaton Terriers [who will go to live with a stepbrother in Minnesota], and not feeling he had to be out-and-about all the time."
Dr. Tom died from complications of plastic surgery. He had gone to have some work done on his nose and eyelids; an infection apparently set in after the surgery, eventually causing renal failure. Henderson found him in his bedroom the evening of July 31, unconscious, and rushed him to Cedar-Sinai Medical Center. Emergency room specialists were able to rouse him to consciousness but they could not arrest his raging infection and he died that evening at 11 p.m.
One of Dr. Tom's closest friends, Dino DeMarco, says of him: "He was just really unique, a gem of an individual. He will be badly missed by all of us." Dr. Tom is survived by Kevin Henderson, a brother in London, his mother and stepfather in Virginia, and hundreds of friends around the world.
After a well attended funeral in Hollywood, his ashes were flown to Thailand for final burial. But perhaps the greatest irony of this entire tradegy was that the day he died was the very day he was to have been sworn in as a U.S. citizen.