Bea Arthur Be Naked. "What?!! My eyes blinked twice. But that's what appeared on my computer monitor. This peculiar phrase comes from an Adam Sandler film, which included in its convoluted plot, a wacky quest for naked photos of Bea Arthur. I had discovered a major website devoted to Bea Arthur! I scanned further. There was Bea Arthur news, updates, history, personal experiences, and even Bea sightings. "Bea Arthur Be Naked," hmmm....
I am jarred back to the present from this momentary daydream. Bea Arthur sits across from me naked, in a manner of speaking, bearing her soul. Dressed in a casual ebony long-sleeved shirt and matching checked pants, she is hunched forward, elbows resting on knees, barfoot—which she prefers to be most of the time—and keenly focused. We are in her canyon home, in a Santa Fe-style, sunlit room. She is talking about her first encounter with AIDS.
"I had the fortune of," she corrects herself, "misfortune of having a friend of mine in the Veterans Hospital. I wasn't working, and in between series, I was there every day watching the progression of the disease. I am very aware of how horrendous it is; ending with dementia, the diarrhea, and the whole thing. He died there. I really saw it up close," she says quietly intense. The man was Tom Rasmussen, the costume designer for Bea's short-lived series, Amanda's.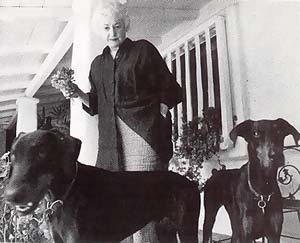 We both try to isolate the time. "Well, this was before '85 because that's when I started Golden Girls. A surprised look crosses her face. "God. Has it been around that long?" Her mouth opens to the shape of an "O," and her big brown eyes come to a stare. She is agog. "But then again, I see Jerry Herman who is the picture of health and has never felt so vital in his life and he's touring around doing shows. Of course, he has a lot of money"—she doesn't finish the sentence, mutters inaudibly, then continues—"Christ, when you think of homeless people who are HIV-positive what are they going to do? But then again," she says stopping herself, "No, I don't want to get into things political because I'm not political. But, I was getting my teeth cleaned the other day, and I said to the hygienist, what happens to people who are too poor to get their teeth cleaned? She says, 'They lose them.'" Bea immediately bursts into a loud, slightly embarrassed laugh. "And you think, oh, yeah, yeah. Of course, it is that simple."
Soon after Tom's death, Bea's devotion to her sick, elderly mother was profoundly tested when she made the decision to assist in her mother's suicide. "She had all her marbles, she was in great shape, but she was almost totally deaf and almost totally blind, and really just wanted out." Fate put Bea in contact with a doctor from the Netherlands who gave Bea his support and advice. "It was really something," she says, her voice breaking as her eyes well up with tears. "Anyway, you do what you have to do. So." She looks out thoughtfully onto the lush canyon walls. "Why are all these people suffering from AIDS? You think—do it. Don't prolong it. I'm sure I don't feel any different from anybody else about that...I would rather they died than see the terrible ravages of this horrendous disease." I ask her how she feels about death. "I think of it as peace."
Interesting comment. Bea lives in a place of peace. Her ranch-style home is lodged deep in a canyon near Brentwood, in West Los Angeles. She has lived there since 1975 while still married to director Gene Saks. They divorced in the late seventies after nearly thirty years of marriage. They have two sons, Matthew and Danny.
"This is country out here," she specified when she phoned me with directions to her house several days earlier. The paved road ends two blocks before Bea's house, which sits on a winding one lane, dead end street. So many beautiful trees hug the house and surrounding land that it is difficult to see the whole structure in one glance. The only sounds I hear are the birds and the wind rushing through oak, palm, and eucalyptus trees. A large patio area lies at the back of the house, adjacent to a modest-sized pool. Healthy, bright red geraniums overflow in huge terra-cotta pots near the lawn furniture. Her bedroom is just off to the side. A tennis court is several feet away, although Bea does not play. She is prefectly comfortable here; she is a part of this elegantly rustic environment. "I tend to be lazy and I don't have to put shoes on, or do anything here. I can walk around without anything on and nobody cares, and it's just lovely."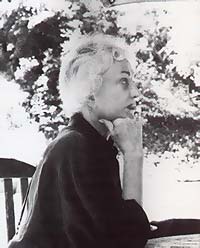 Bea herself looks lovely. Her appearance belies the fact that she is in her early seventies. She has clear, ivory skin, thick platinum hair, and bright eyes filled with curiosity. She is sharp as Maude's tongue, and quick-witted as a standup comic. She is more slender, and her height less towering than I had expected. Yes, her rich, distinctive voice is as strong and familiar as ever. She reveals her subtle echoes of the wonderful groundbreaking characters she created: Maude Findlay from the TV sitcom, Maude, for which she won an Emmy award, Dorothy Zbornak from the TV series, Golden Girls, for which she won two Emmys and Vera Charles from the Broadway show, Mame, for which she won a Tony. Bea recreated her role in the film version of Lucille Ball. Before landing Maude and rising to the rarified heights of TV stardom, Bea was a twenty-five year veteran of nightclubs and the stage—she originated the role of Yente the Matchmaker in the original Broadway production of Fiddler on the Roof.
"But I think my favorite part that I ever played was the first one that really got me notice, The Threepenny Opera. Of everything I've done, that was the most meaningful. Which is like the first time I felt I'm here, I can do it." She said Lotte Lenya told her, "You must be fabulous because everybody tells me that next to me you're the best thing in the show!" This was the early fifties, and Bea felt as though she had arrived.
Bea has a lovable, comforting, yet powerful presence. She is like a sip of fine wine. It may be a bit overwhelming at first, but then it goes down real smooth and satisfying. Gazing at her, I recall our conversation over the phone the day after Frank Sinatra was dead. "It's like, well, this just shouldn't happen, you know." She laughs at her own irrational statement. How does she deal with loss? "First you cry, and then you revel in the humor of the person. A good memorial service always ends up with a lot of laughs and a standing ovation. What the hell else you going to do? Right?"
She says she has no particular spiritual beliefs but that she tries to be kind. She loves people and animals, and is active in AIDS charities, animal rights groups, and foster children's organizations. "I'm a humanitarian, what can I tell you? Is that the word? And I take part in every AmFAR event that comes along, as well as 'Broadway Cares.'"
She remarks that there seems to be less AIDS awareness than there use to be. "I mean, I've even stopped wearing my little red ribbon except on one jacket where it's sewn on. It was all the rage a number of years ago. You never got on stage without wearing it. And it's sort of like we've forgotten it. I don't know." She pauses, seems frustrated. "Of course, more can be done. I wish I felt optimistic about it. Everyone seems to think we're going to get the cure." Her voice then begins to trail off plaintively, 'I-I don't know...."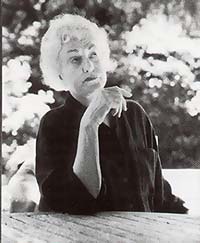 "I wish there was something more that performers could do other than get out there and sing at benefit performances. I wish I felt that if I had an empty room I'd like to bring in someone and make it a hospice, but I'm not Mother Teresa. I can't do that." She adjusts the microphone wire, yanks on her shirt in several places to loosen it, lifts her head and ends with, "What can you do?" She leans back, contemplates, and gets a distressed look on her face. "You know something, I've been reading in the past couple of days, and listening to television and radio reports and they say," she stops momentarily and continues with a hushed voice, "all is not good. It's not stopping, and the vaccines are not coming along the way they should." She's cautiously pessimistic.
Bea tries to make sense of all of this—and she claims she isn't spiritual! "I'm even wondering now whether cancer for instance is not just a way of keeping things in balance. You know what I mean?" She clears her throat and gives a small titter. "So many people are being born. We're getting so overpopulated. It's so scary and so immoral." I mention that in China, families are heavily taxed if they have more than one child. She agrees with this, but adds that this may be why infant girls are reportedly being killed. "Christ, even my gardener is one of twelve children," she blurts out, then sighs in horror.
When Bea speaks about her children, tears come. I point to one of many framed family photographs standing on the black grand piano just behind me. The tender snapshot is a closeup of two very cute boys, probably around the age of ten. These are your two sons? "Yes. Yes," she says softly, getting up to look at the picture. Both are now in their thirties, reside in Los Angeles and work in the entertainment industry.
The other two loves in Bea's life are Emma and Albert, her Dobermans. I had the pleasure of encountering both of them, especially Emma, when I arrived. I had parked in the small driveway just outside of the front door, and walked toward Bea who was standing under the veranda. She quickly extended greetings, then passed me saying, "Stay there. I'll be right back." I couldn't imagine what she was doing. She headed to the garage, several feet away and came back with the "pooperscooper." Bea picked up the poop, walked back to the garage where she dumped it in the trash can. Walking back toward me she says in a deadpan voice, laughing, "Well, that was a lovely one. That was Emma. I mean, you think it's easy being a star." She chuckles. My very first encounter with Bea Arthur.
We continue with our interview. I utter the first word or two of a question and the phone rings. "Wait a minute. I have to get this. No, I don't. Yes, I should. Hold on. Just a minute." She starts walking. "Can this travel with me?" She refers to the mic loosely clipped to her blouse pocket. She walks with brisk energy. The cell is for a visiting friend. She summons her. Before Bea sits down again to resume the interview, she thinks she should get a Kleenex "in case I start weeping." Then she remembers she had placed one in her bra. This reminds me of my Aunt Della who always had a tissue in her bra, too. Both of us have a good laugh.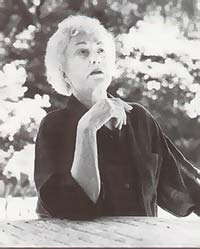 She settles in the cushiony wicker chair and talks about other personal AIDS experiences. "Thank God, I didn't see him during the illness," Bea says about her very dear friend, Leonard Frey, who died of AIDS. She worked with him in Fiddler On The Roof, and Leonard was also in the original production and the film version of Boys In The Band. Of another friend she says, "I could tell he had it. I could tell he was going. But he was black and it was a little difficult (to tell). He died of it also. But this was years ago. This was before all these [new drugs]."
What would Bea be doing had she not been an entertainer? "I'd probably be running a hospice," she instantly responds. I look at her dumfounded. She's motionless and fervent. Is she serious? Definitely! It's a real moment. In fact, Bea earned her degree as a medical laboratory technician and briefly worked in a hospital. "And for a lady who they don't think of as that! But it's true," she says, probably realizing that her answer is not a typical response from Dorothy, Maude, and definitely not Vera Charles! Nurturing , caring, motherly are not common words most people would associate with Bea Arthur. A definite misconception.
Bea has had a hearty life. She has worked hard and it has paid off. In her vibrant, low baritone voice she touches upon the highlights of her life. "The kids, the dogs, cooking great meals, traveling to Burma and Thailand, and being accepted as a good actress!" She enunciates each word with precise measure. "I always envisioned myself like Betty Grable, or somebody like that. Somebody really cute, and small, and blonde. To get out there and dance and sing." She looks around the room for a minute. Thinking. She radiates a defiant vitality. "Getting a Tony, getting an Emmy, being recognized in your profession has to be a highlight," she emphasizes. She readily reveals who has influenced her: Lotte Lenya, Sid Caesar, and Lee Strasberg.
Bea's an early riser, she watches a lot of television (loves Nick at Night), and is a voracious reader. She loves cooking for freinds, and her favorite place to recharge her batteries is London. She particularly favors the theater district. "I find that I don't go to theater very often here because it's such a pain in the ass getting there, you know?" She will personally answer mail—which is abundant—if a letter strikes an emotional chord. She recites a specific letter form England, "'You've brightened my life. And when my husband was dying of prostrate cancer, I would turn on the telly and there you were. I want to thank you.' When it's that kind of mail I have to answer it," she says as if it were law.
Bea is self-reliant, and a no fanfare kind of gal. "I don't have an assistant." She sits back and crosses her long legs. "I love that word. I still don't know what it means. Everybody has an assistant. I have a cleaning lady who comes in on Saturdays and spends five to six hours here, and the gardener comes on Tuesdays and Fridays." She even answers her own phone! What? No voice mail?
The Lifetime cable network is currently airing Golden Girls four times a day. Bea stresses that she seldom watches the show, but she will if it's a favorite episode. "I love a lot of the stuff that I did with Stanley—the dumb things." She takes a sip of soda water. "One of my favorites is when we dressed up like Sonny and Cher. I loved that." Is there a Golden Girls reunion in the works? "No! Absolutely not. I see no reason to do it. We could never top some of the stuff we did. So why do it?" It seems the rest of the cast is in favor of it, but Bea is adamant. "You have to know when to leave," she persists. She also left Maude when it was on top, as well.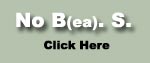 Since Golden Girls went off the air in 1992, Bea has appeared in several stage productions including, Bermuda Avenue Triangle, which was written by Joseph Bologna and Renee Taylor, who also costarred with Bea in the show. Bea recently appeared in Anne Meara's comedy, After-Play, at the Canon Theatre in Beverly Hills. In March, she was a guest on The Ru Paul Show, where they exhibited the "Bea Arthur Be Naked" bumper sticker and T-shirt. She doesn't have any comment, but is curiously amused by it all. Currently, Bea is working on a "One Woman Show"—a theater piece with music.
This woman has worked in almost every show business medium. "Shit. I've been around since Christ! What do you need a bio on me for?" she says in one of her several pre-interview phone calls. At times, Bea complains and appears somewhat disgruntled by some of my questions, but she's straightforward and feisty, and her openness and ability to share makes her surprisingly forthcoming during the interview.
Bea is in midsentence when a figure by the pool catches my eye. I steal a glance, but with her acute awareness, I'm caught! She immediately abandons her thought and ends her sentence with, "What are you looking at?" For a moment, I'm thrown. She looks out the window and says, "Who is that?" I dont' know. Then I realize it is Tim Courtney, the photographer for A&U.
I introduce them. As Tim sets up, Bea and I are in the kitchen, along with her friends and protectors, Albert and Emma. She tells me about two British friends of hers, a gay couple, who were visiting her last week. She says they just bought a home in London, and before they could get a loan they had to submit the results of an HIV test. We both shake our heads in disgust.
"I just wish I could do more," pleads Bea. She has felt from the beginning that she should not be interviewed for an AIDS-related article. She happened to catch a letter to the editor in the "Mailbox" section of A&U magazine criticizing Maureen McGovern (January 1998) for being on the cover. "Which makes sense to me. I thought what the hell has she done? Why is her picture on the front page?" she says with a rise in her voice. She recalls Rock Hudson's funeral. "I remember Rock's boyfriend was talking about Elizabeth Taylor, and he said,'That's really bullshit. She doesn't do anything. She was a great activist? What has she done?"
"I'm sure everybody at one time or another thinks—I could be Mother Teresa. Why can't I be that nurturing, that giving?" Bea says she will see ads in papers seeking volunteers. "And for a minute I'll htink that I should be doing that, and then something comes up and that's the end of it, you know." When Bea realized that she could reach a wider, different kind of audience by being on the A&U cover, she consented to the interview.
Tim enters and tells Bea how she inspired him. "As a kid, I watched Maude and was attracted to her aggressive, strong behavior. I realized that I too could be self-sufficient, believe in myself, and that there was more to life than just Kentucky," he says beaming with excitement. Bea graciously replies, "Oh. Thank you. I'm very flattered." As they trek off to the pool area for the photo shoot, I realize just how many people this woman has touched through her work.
Always ready to lend her talents to fund-raising activities and public awareness campaigns, she's undoubtedly brought smiles and laughter to countless individuals in pain with the memorable characters she's created. In her own special way, Bea is a quiet activist.