Merely change the name of Cora, in this best-selling novel, to Carrie, change William to Julian, and the year to 1985—a short time prior to the death of Rock Hudson—and you have Carrie's initial reality check into the AIDS tragedy. She has been on the front lines twice.
However, Carrie's first realization of AIDS came before that. "My friend, Joan Hackett had ovarian cancer, so we went to give blood for her," she says sitting Indian style on the rustic fourposter bed in her Beverly Hills Canyon home. "They had us fill out a form that said: Are you an IV drug user? Have you been to Haiti? And I was making jokes about it because we really didn't have any idea of what it was about. It was bizarre because they weren't explaining what the questionnaire referred to. So we all gave blood. And that was the first time I had heard about AIDS."
Carrie is dressed in her white, flannel nightgown, with the signature glasses atop her head pulling back her unusually long, highlighted hair. She is fresh-faced, perky and youthful—she looks good. It's hard to believe that she's forty-one. She is sitting on her rainbow colored bed sheets, and a sky blue down comforter awash with stars that could have been spun by Merlin the Magician himself.
Just moments ago, I was driving on Sunset turning north into the Canyon. I parked on the street, buzzed the intercom and the gate of weathered wood parted and slowly opened. Ahead of me, up on a hill, stood a one level hacienda. Later I found out that this is called "Casa Ladera"—House on the Slop—built in 1910 with former occupants being Bette Davis, Edith Head and Robert Armstrong.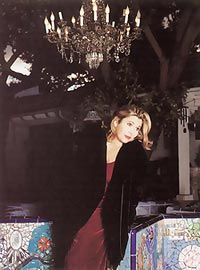 Reaching the porch, which extends the entire length of the ranch-style house, I was greeted by a little yapping dog, Bingo. Chris, Carrie's personal assistant, shushes Bingo and lets me in. Although Chris has been with Carrie only a short while, one would swear that they had been together much longer because of his efficiency and easygoing manner.
As I sat in the living room, Chris asked if he could get me something to drink. Herbal tea. Chamomile. He departed saying that he would find out where Carrie wanted to hold the interview. The masculine décor included a large fireplace with a dark wooden mantle, and a huge stuffed moose head mounted on the wall above. Paintings of animals done in a dramatic chiaroscuro style hung over a sofa. Casing the joint, I felt as though I were in a Sportsman's Lodge and that Clarke Gable and Spencer Tracy would soon enter trading hunting quips.
A Steinway, which once belonged to Ronald Coleman, served as a display table for Carrie's family album. Among the famed photos were a black and white 5x7 of Jimmy Stewart signed to her daughter, Billie, a signed photo of Michael Jackson, Meryl Streep and Carrie hugging, Carrie's mother and brother cheek to cheek, and an adorable black and white glossy of a bare-bottom Billie, loosely thrown over Carrie's shoulder, as Carrie mocks slapping Billie's butt. A radiant laugh pours out of Carrie.
Several gorgeous stained glass windows, bought in London, were lit from behind to create an ethereal glow. One depicted a saint and a cow, both with wings inscribed with the word, "Sacrafice." Stunning. Religious artifacts were placed throughout. And to enhance the room, parts of the walls and arches were painted in decorative mural motifs by artist Michael Foulkrod.
The place was filled with knickknacks, Americana, collectibles and other tchotches—even some Star Wars memorabilia. In the corner, dressed in her slave girl's threads, stood a life size cut-out of Princess Leia! Chris appeared, handed me a cup of herbal tea, and said, "Carrie wants to do the interview in bed." I followed him down the long hallway and entered Carrie's bedroom—a modest room matching the décor in the living room, but with more of a child's flavor. At the foot of the bed was a life-size polar bear. A three foot long miniature Jabba The Hut lie on the floor under the window. Carrie was in bed, snuggled under the covers, with her head on the pillow. She had not been awake long. She greeted me with a warm smile, and a slight hint of embarrassment. It didn't take me long to place my cup and saucer on the night stand and hop into her bed. I propped myself up with pillows, Carrie sat up, and I felt as though I was talking to an old friend.
Carrie elaborates on her experiences with Julian, her friend who died of AIDS complications, which is fictionalized in her book, Delusions of Grandma. She had just finished Surrender the Pink, which was bought by Steven Speilberg. She sent for Julian. The day before he arrived, diapers came. What did you think, I ask. "I didn't know what to think! I took things almost like a child. I don't know what I thought. But I didn't know whether it meant he could put on the diapers, or I was going to put on the diapers. I had no idea!" she says laughing, as though this happened yesterday.
She had known Julian for years, but had not seen him recently. When he arrived at her door, he was loaded on pain killers. "I thought, 'Wow!'" She pauses for a second as if reliving her shock and realization of his condition, then continues, "This is very serious." Julian stayed in the guest room. He was incontinent. He couldn't walk. She hired nurses for him. She took him to parties in his wheelchair. "I would get him manicures and pedicures and he would come outside in his underwear with the catheter." She stops to take a breath, and says, "And he was beautful. He was beautiful. People were freaked out, but his was something I learned from my mother, too. You take care of your own." I notice her large, expressive brown eyes, and her tiny dangling earrings made up of a cluster of colored stones.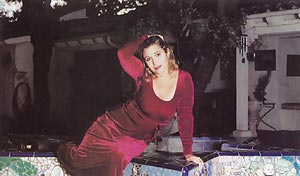 This was the time when people were terrified because they thought that AIDS was transmitted through touching, breathing, kissing, and tears. "At that point, it was like having leprosy in the house. And you could get it any way. But Julian also liked to fuck with people about it too." At one point there was an issue with her grandmother. "Since there were a lot of needles around....and basically there was blood all over my house....my grandmother was concerned for my safety." Carrie ponders on whether or not to mention her grandmother, but then nods and says, "Oh, she won't read this."
The medical costs were astronomical then, and are even higher today. Carrie struggled with the insurance company. Julian's insurance only covered a nurse for half a day. Carrie said she wanted so badly to ask them, "Which half of the day do you think he's okay?!" Julian felt guilty about Carrie's financial support. "I had the biggest talk with him I ever had with either of these friends of mine who have lived with me (and died)." She just started doing rewrites, and she told him, "I make a lot of money for what I do, and if I don't share that money with anyone I will go to hell.'"
Julian stayed with Carrie for two months. He got sicker and sicker and Carrie witnessed his slow, grueling decline. "He still was beautiful. He just looked like this ravaged, beautiful pretty type," Carrie recalls. One evening Julian threw up a pint of blood. Carrie called 911 and "they came over wearing space suits which I'd never seen. I was very upset." Julian got on the stretcher, looked up and jokingly said, "Who's coming with me to the hospital?" Carrie replied, "I am." Since Julian's family was in Australia. Carrie took full charge. Julian was in denial hoping for a cure, and Carrie played along, though she knew the verdict. At one point, Carrie talked with Julian about not being kept alive on machines. This was extremely difficult to discuss with him. "I looked at Julian and I thought, why not me?" she says. Carrie watched her friend die.
"When Julian died I wanted to have a baby like that," she says as she snaps her fingers. After Julian's death, she searched for a mortuary for the cremation, but it was difficult to find because few would take "AIDS victims." Carrie traveled deep into the heart of the San Fernando Valley to pick out an urn. She bought one that resembled Indiana Jones and the Temple of Doom because she thought he would like that. "I was a mess. A mess. And I don't like that," she continues. "So I learned about death. And it wasn't scary because it was Julian."
Ten years later, tragedy struck again. With Carrie's friend, Michael, it was a bit different than Julian, because Michael knew he was dying and he was prepared for it; he acquired many of the AIDS opportunistic infections; and Carrie's two-year-old daughter, Billie, was around. Billie loved Michael. Carrie was not only faced with Michael's demise, but was confronted with Billie's emotions. Fortunately, she was assisted by a child psychologist.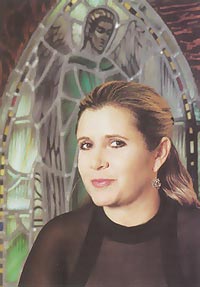 As Michael lie in the hospital in a coma, Carrie watched over him. "Then he came out to talk to me some more." She looks down for a second, then pulls her straight, silky hair back from her face. I knew drugs very well, and I was trying to get them to give him morphine instead of Demerol because Demoral's too high-pitched and morphine is a more cozy drug." Michael eventually chose to disconnect all life-supports and say his good-byes to his family and Carrie. "He said to me, 'You know, I think I'll miss you most of all,' which is he line from The Wizard of Oz." Carrie's eyes fill with tears and she says in a low whisper, "I get upset now." Through all of this, she comments about death, "I don't think it's scary. You're still living up until you die." She takes satisfaction in knowing that both of her friends had full lives up to the end.
If all this wasn't enough, about the same time Michael was near the end, a friend of a friend, who was dying from AIDS, requested as his last wish to have lunch with Carrie. The lunch never transpired, nor did they ever meet. However, for about two months Carrie became close phone buddies with David. There were times when David was delirious, but Carrie was still there for him. Just one day after Micahel's death, David Died. David was David Feinberg, the author of several books, including the AIDS-themed novels, Eighty-Sixed (1989), its sequel, Spontaneous Combustion (1991), and Queer and Loathing (1994), published posthumously.
Carrie said it was a nightmare, and that she often thinks of her friends. Michael's photo is a permanent fixture in her star-shaped mosaic fountain in her backyard which she designed, that has a chandelier hanging directly overhead. It could be called "kitsch," but his is Carrie, a blending of the old and the new.
What have these traumatic, life-altering experiences done for her? "It makes me really feel that when I die I hope somebody's there like me. But then you think, there will be somebody there like me, but they'll be on the wrong end. It is another part of life. It's not the easiest part." She reaches around on the night table, where a candle burns, and grabs a cigarette. "Now it's easier because they've given a lot to me by allowing me into a very intimate situation of their deaths." She lights a Marlboro Light. "With this disease it is really a bad one. And I've watched a lot of deaths by the time I was thirty-five.
Carrie emphasizes that there should be commercials on television educating the public about AIDS and HIV, especially for heterosexuals. She says if they can air a shocking commercial about a little boy playing with a gun, they can certainly encourage AIDS prevention.
"Condoms. Condoms. Condoms," Carrie shouts when asked what she would tell the youth today about AIDS and HIV. And for people to get tested. Billie comes to mind. We both agree that by the time Billie reaches puberty there will hopefully be more understanding of this disease. If she does need to educate Billie, she will urge her to use condoms, to get tested, and to maintain just one sweetheart. Carrie searches for an ashtray.
AIDS is a medical condition that is still deemed to be terminal in spite of all the new and promising drugs. Carrie relates to the word terminal. "I always drag it to that," she says laughingly. "I'm somebody who's very freaked out about a lot of things. And probably some of it because I am manic-depressive," she says so matter-of-factly. She says that she could never live with having AIDS or HIV, and thinks the people who do are so courageous.
"Because I have no perspective. It would just drive me," she halts. "You always think on certain visits to the doctor they will tell you something and you think," she changes positions and whispers, "I'm dying. To me, AIDS and manic-depression are the same thing. They know that certain medicines work but they don't know why. Well, that's comforting. So you're basically giving me a medication that could be bad for me in twelve billion ways." A sour smirk paints her face.
When were you diagnosed with manic-depression? "Long Ago," she guiltily whispers. She was diagnosed at age twenty-four. "But I didn't 'get it' until I went into the hospital and had a psychotic break." That was the summer of 1997. She explains, "For a long time I was extremely manic. I didn't have strong depressions." When she did have depression, they gave her tons of medication and none of them worked. The medications made her collapse and they all conflicted with each other. "Then I went the other direction and it was very, very scary. And I would not, prior to that, have said I was manic-depressive. It would have been too serious of a thing for me to run around saying that. But I didn't really have strong signs of it prior to that. I was generally manic. And that was lucky."
She is now regulated with the proper medication. Carrie laughs. "Oh, yeah. Right. You arrived here and it was 11;00, and I was sleeping!" She giggles. "The difficulty is the medications make you tired." With Michael and Julian she confesses that she was in the manic state. "Also, those situations pull me up. I'm terrific in a crisis. I've had depressions that are very, very, very bad. And I'll just say that without going into any other [detail]. You pretty much know what that means. But I have a daughter and those are just not viable options."
Carrie prefers to be called a writer. Writing is her passion and she lets me know that. Even as a child she kept journals and realized she had "a certain style." Although she didn't always want to be in "The Biz." At age thirteen, she thought about being a criminal psychologist. At sixteen, her first employment was as a singer in her mother's Broadway show, Irene. Her eyes widen as she blurts out, "I grew up with a lot of gay guys. I thought all men in the world were gay. Then I got to London, of all places, and I thought , they're not!" She attended drama school in London for two years, then stayed on to make the film epic of this generation, the Star Wars trilogy, playing the celebrated Princess Leia.
She continued writing during this period and was addicted to prescription drugs, as well. Straight out of rehab, at the age of twenty-eight, she wrote Postcards from the Edge. Later, two more books followed, Surrender the Pink and Delusions of Grandma. She even interviewed Madonna for Rolling Stone magazine in the late eighties, and continued to make movies for ten years. Her first film appearance was in 1975's Shampoo. Other movies include: The Blues Brothers, The 'Burbs, Garbo Talks, Soapdish, Hannah and Her Sisters and When Harry Met Sally.
Carrie has not had a major role in a movie since Billie's birth in 1992. She has no desire to act. If she does it is only a one day shoot, like last year's movie, Austin Powers: International Man of Mystery. "I don't like waiting in little Winnebagos," she scoffs. She sniffs and lights another cigarette. "I don't like my looks. I did [movies] for as long as I like them. At least with writing, I can sort of call my own hours. I have a partner that I write with. I like writing books because it's sort of more respectable." She grins. She admits she would like more children, but it would limit her time to write. It was difficult finishing her last book, Delusions of Grandma, because Billie was just a year old.
Carrie now shares an office with her writing partner, Elaine Pope (Seinfeld, Murphy Brown); they are currently creating, writing, and producing a TV series for Universal. Carrie and Elaine are also colaborating on a movie for Disney, and Carrie has a book deal with Simon and Schuster.
This is a very busy woman. I ask Carrie where she gets her drive, her strength, her discipline, let alone her confidence. Carrie sneezes, then replies, "Partly from my mother. She's certainly a role model. The other part is a mystery. I end up having finished a book or something, and I think, how did I do that? Because I don't feel like doing that much most of the time. But I'll do it anyway. So that's some kind of discipline that I have. Although my mother has extraordinary discipline. And I don't understand that. It's insane. And I kind of feel like, wow, I get jealous of that."
While on the topic of her mother, I ask Carrie what are her favorite Debbie Reynolds' films. She names three: Catered Affair, Singing in the Rain and The Rat Race.
How does Carrie define success? "There are various ways. Be a good sibling. My brother, Todd, was great when I was in the hospital. He lives in Las Vegas." When she talks about her brother, her voice becomes tender and warm. "The funny thing about Todd is he's related to these very volatile women and he's just very blasé about it. He's fantastic. Also, to enjoy your life with the best means that you have. Which I did for a long time but I'm a little more challenged now. But I still do.
She props herself up on the pillow, and leans back against the sturdy wooden headboard. She looks cuddly and contemplative. What motivates her to get out of bed in the morning? "Not much!" she says, poking fun at herself, having been in bed when I arrived. She pauses and adds, "I have to go to work."
Chris knocks, immediately enters, and excuses himself. Looking overwhelmed, he confirms with Carrie an AIDS Project Los Angeles dinner Thursday night with David Geffen. She thinks a second and replies, "Okay." There is an obvious bond of trust between Carrie and Chris.
"I've been much more involved personally rather than a big red ribbon wearer, although Michael left me all of his," she says and quietly laughs. However, Carrie is being modest. She has contributed financially and has done many benefits and events with various AIDS organizations. Carrie did a fund-raiser for AmFAR, one of Elizabeth Taylor's favorite organizations, "need I say?" She purses her lips and blows cigarette smoke. "She sent flowers and a note to everyone involved. I thought I was the only recipient. At the event, I stood at the podium and said, 'I received flowers from Elizabeth Taylor.' And I got everyone in the room to believe that the flowers were finally the apology for stealing my father thirty-two years ago." It turned out that the attached note was just to thank Carrie for her work that evening. "But I could read an apology between the lines if I wanted to," she says with a shrug and outstretched arms.
Elizabeth heard about this and thought it was very funny. She invited Carrie over to her home. "We actually talked about his stuff, with Eddie and all this stuff, then she pushed me into the pool. I said do it. And she said, 'No, No. You'll pull me in.' I said I absolutely won't pull you in. Push me in the pool. So eventually she just pushed me in the pool. It was great. It was a kind of healing. I liked her for that. And I think she's done great work.
Throughout her career, and being raised in a celebrity home, Carrie has had the opportunity to encounter many inspiring talents. I wonder who her heroes are. Without any hesitation she says softly, "Cary Grant." She giggles, briefly transforms into a shy little girl who's having her first major crush and says, "I love him." She beams as she cuddles the pillow. She seems far away as she continues, "When I met him I was so shy I fell apart. I could talk to him on the phone. Both my parents went up to him (at separate time) and said that I had an LSD problem. Which was quite far from the truth. They had him call me. My mother knew him. My fahter didn't know him and went up to him at Grace Kelly's funeral and didn't know her either, but he went there. And he went up to Cary Grant and he said, 'my daughter has an LSD problem.' So it was humiliating when I got a call from him. I said, I don't have a (problem)! Cary was elegant, he was easy, smooth." She mentions other heroes, "Susanna Moore, Anne Sexton, and Sylvia Plath—they're all manic-depressive; suicides. I also like George Eliot and Buck Henry."
Carrie gets up. I get up. Nothing is spoken. We sort of know where each are going. We pass each other at the foot of the bed, and she says, "You go to the little boys, I'll go to the little girls." She goes to one bathroom. I go to the other. Both are on opposite sides of her bedroom. While in the foyer of the bathroom, I spot a famed black and white photograph of Cary Grant, circa late forties, hanging on the wall. It is signed "To Carrie, who wsn't even born when this was taken. Affectionately." What a handsome man.
I go back into the room and she is not there yet. So I take my empty cup and saucer out to the kitchen. The door of the fridge is loaded with articles, photos, and other paraphernalia. Several magnets catch my eye. One says, "When mama ain't happy, ain't nobody happy." Another is a commercial color photo of Eddie and Debbie in their fifties wedding garb, that anybody could buy at a specialized store. A snapshot of Bette Midler holding her baby daughter is taped prominently in the middle, amidst news clippings and jokes. I walk back to the bedroom, meet Carrie on the bed and we reconvene.
Give me one word to describe Carrie Fisher. There is a long pause. "Well, the first word that comes to my mind is intense." She laughs. "I'm intense about what I do and who I'm with. I like to be present. Sometimes I like to measure it against who I'm with. It's bad sometimes because people think I don't like them or whatever. They read it as cold. But I don't mean it that way. But there's a lot of me," she pauses, becomes the little girl again, and in a shy, yet sexy, voice continues, "in such a little package."
There is a phone call for Carrie. It's her ex-husband, Paul Simon, who is a good friend. I understand they communicate frequently. I gather my interviewing gear while they converse. The conversation sounds intense. But Carrie wouldn't have it any other way.