"A monkey...an outbreak... a mistake that got out...chemical warfare," grapples David DeLuise as he rattles off words that first introduced him to the AIDS epidemic. He didn't think too much about it then because he thought it was a gay disease. But he faced the hard reality when he learned through mutual friends about Elizabeth Glaser, who along with her children, was in mortal battle with AIDS. The epidemic was somehow closer and soon the circle became smaller. He discovered that his "cousin John's husband" was HIV-positive and had been living with the diagnosis for more than ten years.
In the tastefully disorganized living room of his condo in the Westwood section of Los Angeles, it's clear that children are in residence. David, twenty-seven, is casually dressed in jeans and a gray T-shirt as Dylan, his two-year-old daughter, hangs and nuzzles on his neck. Perched on a bright colored retro sofa, DeLuise babysits while his wife, Brigitte, is out doing errands. Older daughter Riley, six, is at school. DeLuise is grounded and unpretentious. With his easygoing manner it's like gabbing with a neighbor over the back fence.
David, son of comedian Dom DeLuise, was reared in a show business family, though he's worked as a carpenter and as a clerk at Mrs. Salem's Frozen Yogurt Shop. "I would go bonkers if I couldn't act. I feel very lucky that I get paid for what I like to do." Last season, DeLuise portrayed Christina Applegate's brother on the NBC series Jesse. Though the show finished number four in the ratings, the producers retooled the show and DeLuise's character, along with several others, was axed. Go figure. Since 1996, he has had a recurring role on the hit series, 3rd Rock from the Sun, and he's also the voice of Bruto in the animated series Starship Troopers. He's appeared on such shows as Home Improvement, Ellen, Louis & Clark, and Blossom. You can also catch him playing a cocky guy in those "spoof-on-sitcoms" Nescafé commercials. He has made nine of them and it seems they will be running for quite some time, because since they've aired, Nescafé's sales have increased! Just yesterday he walked into the corner Starbucks (is there not a corner that Starbucks doesn't own?!) and the counterperson jokingly said, "I'm sorry, we don't serve Nescafé here."
How does a working actor balance a career and a faimly? "I don't have sex ever!" he shouts. As a promiscuous teen, he says he was more concerned with not getting a girl pregnant rather than contracting HIV. AIDS prevention was still in its infancy. "I was much more hormonal. [Sex was] all I was thinking about," DeLuise laughs. He used condoms, but only at the very end of intercourse. "You go for a little bit, then you put the condom on." He was unaware at the time that the preejaculatory fluids could easily cause pregnancy and transmit disease. "You cannot be like that now. I just wasn't aware of things when I was younger. And it was embarrassing then to buy condoms. You'd go in and say in a firm voice, 'Can I have some Marlboros?' and in a whisper you'd add, 'and some condoms?' Nowadays you say in a strong voice, 'Can I have some Avantis?' and in a low voice,'and some Marlboros?'" He's concerned that many kids today aren't fully aware of the proper or timely way to use a condom. And he notes that when he attended high school in the late eighties, AIDS was not even mentioned in the standard health class. His philosophy now: "Once it's up, put it on."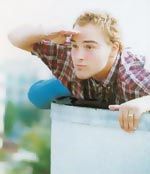 When David was growing up, sex was not a fobidden topic in the DeLuise household. "My Dad always talked about safe sex and he was always accessible." As Dom puts it: "No subject was left unturned; death, underwear, erections, and washing your hands! When Carol and I were raising our young children Peter, Michael, David, we had a policy. No subject was forbidden. Carol and I were all smiles while our boys laughed a lot about body part names, breast and nipples, penis and testicles. When our cat gave birth, we all watched together. We had books with drawings about how people made babies. We spoke about drugs and the importance of safe sex." And when any of the kids had sexual problems, David's parents would react cool so as to not nix any further issues that might arise. "We did what we thought was intelligent. Did we make mistakes? Every day!" muses Dom.
How will David handle AIDS prevention with Dylan and Riley? "Without scaring them to death, I will talk to them before the sex talk, because it's not just about sex." Explaining the details in age-appropriate language, he hopes to instill in them personal responsibility and self-respect. And as for someone living with HIV/AIDS, to treat that person with the same respect, and that means "yes, you can hug, kiss, touch, and hold someone who is HIV-positive."
David, and the DeLuise family, have all performed for AIDS charities and David specifically has promoted the AIDS Walk. "When you partake in these events and see how many people unite for one cause, it really affects you. You can spout off statistics all you want, but when you see thousands of people affected by this, it is pretty astounding."
"I'm not scared to die," David says matter-of-factly. "I get scared, but I know when I die it's the time I'm supposed to go. I have a total belief that there's life after death, there's something else. And I believe that those we've lost are still with us in spirit. I'm a very spiritual person. Whatever your God looks like, that's up to you. But I tend to believe that when you make that wrong turn, end up in the parking lot and say, 'What am I doing here?' And then all of a sudden you spot someone—'Tony, I haven't seen you for twenty years!'—there's a reason for that wrong turn. There's something about those little unexpected things that kind of open the door to trusting that when a person dies they are in a much better place. Yet, with that understanding, I can't explain why children get killed." David attends to Dylan while she feeds granola to a teddy bear, messing up the Napoleon blue carpet. You watch a kid with a disease and they'll fucking amaze you. [Paul Michael] Glaser's son is simply the most outgoing, positive kid," DeLuise remarks. "These kids will blow you away with how much courage they have and how dedicated they are to living every moment."
Growing up in a well-known family had its perks—Mel Brooks and Anne Bancroft are his godparents—and David enjoyed all of his father's show biz pals who were part of his life. In particular, Charles Nelson Reilly was an inspiration to David. "We took a walk on the beach in Malibu one time. And he said,'You are so insightful. You're so bright.' Here's this genius of a comic, of a man, and he's giving me all the confidence so that I can trust in myself. That was really sweet," DeLuise says and after a moment adds, "and so I named Riley after him!" He excitedly screams and laughs unrouriously. "No! No. He said that though! He said that. He came over to the house after Riley was born and he goes [DeLuise calmly imitates that effervescent voice], 'I'm just so happy that you named your daughter after me.'" He sits back and boasts that familiar sexy, devilish DeLuise smile.
"I think now at the beginning of the new century there's a lot of positive energy. Hopefully, it seems we're getting closer to managing the AIDS virus so people can live with it," he says. "We are being rewarded in the sense that people are aware of this exciting energy and utilizing it through yoga, stretching, exercising, and thinking positively. All these things are leading us to be more spirited, enlightened people. I stay up-to-date on AIDS issues so that I can pass the information on to my kids. Parents should be fully educated about this disease." With that, he looks on as Dylan sleeps on his shoulder.