Almost a year lapsed before A&U actually captured Mary-Louise Parker, one of the many three-name Marys (including Mary Stuart Masterson, Mary Elizabeth Mastrantonio) to be found in films. This busy actress was finally tackled and pinned down in the trashy-chic lobby of the notorious and historic Chateau Marmont, at the eastern edge of the famed Sunset Strip in West Hollywood.
Parker dressed for our interview in an appealingly casual manner: short blue-green top, showing a pretty summertime midriff, and faded blue denim cutoffs revealing long, lean legs—altogether quite a sexy look. Her beauty isn't ravishing, nor is her sexuality thrown out in an obvious fashion. She's very much the "girl next door" who extends warm greetings with a firm handshake—revealing herself to be both personable and unpretentious, but not one to be taken advantage of by ruthless jounalists. Roosted on the couch, she's a bit more frail than her on-screen persona, petite in size and shape, midlength, mousy brown hair. She is slightly protective of her privacy, a disarmingly attractive feature. Her present concern is to make her guest feel right at home, even in the cavernous lobby of the Marmont, by ordering a Diet Coke for him.
Parker is quietly forthright as she speaks about the acute AIDS-awareness theater people have earned, brought about by so much misery. "Anyone in the theater understands AIDS on a deeper level than most others because we are constantly losing friends—lighting designers, costumers, composers, dancers, singers, actors, producers. It has been more of a constant interest in the theatrical world, I think. I'm always shocked when I go somewhere and hear someting that reveals homophobia. "She acknowledges that her first reaction is no longer anger, but something more like a "What?!" "It's so odd to me because I don't live in that world anymore, so I find it really shocking. Two years ago, I brought my seventy-five-year-old dad to the GLAAD Awards in Washington, D.C. He was a career military man, originally from West Virginia, and is the most unbiased person ever. He spent the evening chatting up every lesbian in the whole place and having the time of his life. On the way there he said, 'Just tell me there won't be any of them there.' Startled, I said, 'Whom?' Republicans!' he answered."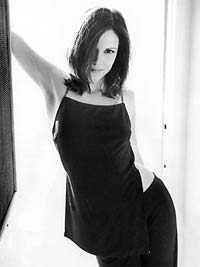 As a military brat, Parker grew up all over the world. As a result, she is a longtime Manhattan resident. Born in 1964 in South Carolina, she was the youngest child and always wanted to be an actor. This talented thespian studied at North Carolina School of the Arts and after graduation, moved to New York where she soon found an agent and landed a stint on the soap opera, Ryan's Hope. She has performed on the New York stage in such enviable companies as The Ensemble Studio Theatre, Circle Repertory Theatre, Manhatton Theatre Club, and Circle In The Square. She's a recipient of a slew of acting awards, including an Off-Broadway Obie, a Drama Desk Award, the much coveted Actors' Equity Clarence Derwent Award, as well as a Lucille Lortell Award.
Her debut film was John David Coles' Signs of LIfe and other film appearances have included lesbian tinged Fried Green tomatoes, the ensemble drama Grand Canyon, Woody Allen's Bullets Over Broadway, John Grisham's The Client, Jane Campion's Portrait of a Lady (opposite Nicole Kidman) and the recent and wretched Warner Brothers film, Goodbye Lover, wherein Parker played a sexy predator realistically. Part of her longevity is actually based on her acknowledgement of herself as a character actor, as opposed to a leading lady. Laid back and quietly confident about her work, she quite easily admits that she is seldom discontented with any of her screen work: "I am not a lazy actor, y'know. Even if the work was bad, I wouldn't be disappointed in myself, because I am sure, in that moment, I did the best I could," she states confidently. Among her many roles, she has portrayed a recovering junkie, a brainy beauty, a deaf mute paraplegic, an abused spouse, and a proper Southern belle—as well as twice playing women who are living with HIV.
Her friendship with openly gay playwright and essayist Craig Lucas (cover story, November 1998) was solidified after originating roles in his romantic drama, Prelude to a Kiss—for which she received a Tony Award nominatoin—and in his groundbreaking AIDS movie, Longtime Companion. Both projects were directed by Norman Rene, who died from the effects of AIDS in 1997. That was a tragic time for the young actress.
"I was extremely close to Norman. Extremely. I mean, one of the most important people in my life, easily," she says emotionally. Right up until his death, neither she nor most of his friends were aware of how ill he really was. "I came out here without him, and as you know, the disease goes through so many phases. You're sick and then miraculously you arise. Then you're sick again and then you rise again. Then everything falls to pieces and you wait for that miraculous moment to happen again. Friday, you see them faltering in the hospital; on Monday they are infused with something and are alive. It is so odd," A moment's distraction stops her speech as a guest crosses with luggage. She continues her thought. "I remember the last time I saw Norman—I went over to his house before I left town for a project. He got up to walk to the bathroom. It was like...it was...you know," she fumbles for words, "that was the saddest thing I have ever seen in my life. I had to look away. I had seen him just the week before and he was fine. Watching him walk from the couch to the toilet was maybe the most painful thing I've ever seen."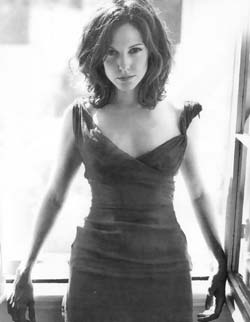 When Craig Lucas called to tell her he ws writing an AIDS movie, she agreed to do the film without even reading it. "Two reasons; the fact that someone was actually making a movie where two men were going to kiss on screen for more than a second, and then that they were actually doing it! I mean I really would've done anything for them. I knew to be involved in any project with them was..." she pauses briefly, "I knew to say 'yes' right away. I told my agent I didn't want to get involved in any kind of transactions—just tell the producers I was in. You see, I trusted them." That unusual, but nurturing, connection had been cemented when the three had collaborated on Prelude to a Kiss a couple of years earlier.
When Parker originally auditioned for Norman Rene for Lucas' Kiss, there was an instant chemistry between all three. She was hired straight away. "Working with Norman really changed me as an actress. He planted ideas in me that have continued to grow over time and continue to even since he has died. They serve as the foundation for acting to me—the way I act, the way I create, the way I feel about acting, the way I respond to other people's acting. He affected me deeply." A peaceful reminiscence brushes over her. We pause, "He was my mentor. The sad truth is you don't get another mentor. You don't get another person you look up to who is able to define things for you, who explains things to you, who makes things make sense for you—especially if it has to do with the artistic. It is just rare that you get one at all."
Rene contributed to Parker's performances under other directors right up to his death. Late one evening, after a rehersal, Parker was frustrated with the director of the piece, so she called Rene for some quiet help. At her request, he came to a matinee even though he was quite ill. Afterward, he gave her notes and said, "I think I have solved all your problems." By the evening performances, Parker had made the necessary changes and had cut out eleven stage crosses, much to her relief, and to the bemusement of the other actors (whom she had professionally informed of her plans beforehand). Her performance was much improved. Rene returned days later, more sick but full of approval for her work. "He said he was proud of me. He said I followed all his notes. Then he gave me a couple more. Which is what I wanted," Parker insists graciously, with a direct and daring glance, perhaps waiting for any possible contradiction from her audience of one. There is none.
It is hardly unusual for a relatively unknown stage actor to lose a role when a play is adapted to film. No one can blame an actor for being resentful, or deeply pained, at losing such a role. Just think of Carol Channing not being Mrs. Dolly Levi onscreen, or Julie Andrews not recreating Miss Eliza Doolittle. Parker was no exception; she was not cast in the film adaptation of Prelude to a Kiss which was a major defeat at the time. "I lost the movie because the studio said flatly to Norman and Craig that they wouldn't make it with me. It was really horrible. I had lived with that part for three years [first at Berkeley Repertory, then Off-Broadway, finally on Broadway]. I had done it every fucking night—twice on Satuday and twice on Sunday. I created it. [The role] was mine and I owned it. I felt like somebody had just ripped it away from me. If felt so unfair."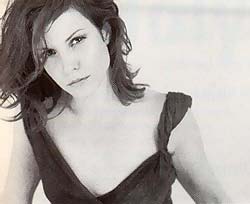 Did she hold any ill feelings toward director Rene? "No, it wasn't his choice to make and he did so much to try to get them to use me. They made him believe all along that they would use me and that my doing a screen test for them was just a formality. I flew out. 'It's just a formality,' they said. I mean Norman went shopping with me to get earrings for that screen test! It is grotesque that they had me audition for a part I had created and then told me that I couldn't do it. It is really fucked up!" She takes a long swig of her herbal iced tea and graciously does not comment on how badly the film failed when prompted. It ended up doing very little business, inspite of the the then growing popularity of Alec Baldwin and Meg Ryan. Twentieth Century-Fox made the film and a famous Hollywood story emerged from the shambles. Lucas' story is a romantic tale of a young couple deeply in love that is turned upside down when the wife's soul is swapped with that of an old man (Sidney Walker) on the brink of dying. When the husband (Baldwin) discovers the truth of the bizarre situation, he kisses his wife, whose soul is in the old man's body, and eventually their intense and enduring love straightens out the mistake. But after the film was finished, some bright executive, according to columnist Liz Smith—horrified at the appearance of apparent homosexuality in the screen kiss between Baldwin and Walker—demanded that the scene be cut, thus nullifying the entire point of having purchased and made this exemplary story. Fortunately, his behest was ignored.
When Parker speaks of rene, there is continued warmth in her voice that reflects just how special he truly was to her. "He was so unbelievably witty. He was just fun to sit with. So smart. So wise. He could really slice someone in half, verbally. But his whole demeanor was very soft and sort of lush and sweet. We just understood each other. I loved him," she sighs.
Lucas and Rene were working partners, and Parker fit right into their duo, making it a triumvirate. "Our relationship worked. They worked together extremely well—had been since they were young. And they worked together quite awhile without any measure of success by others' standards. Norman really knew how to take what Craig made and illuminate it—make it human, funny and wonderful, not distort it. His work was very delicate and layered. You can't go at work like Craig's with a heavy hand. It needs to be taken apart in a very particular way. Norman knew how to do that. They just worked well toghether in that shorthand way partners develop: each could offer the other something really vital." And Parker complemented this team by being their voice—the actor.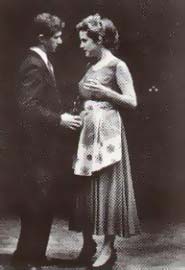 Parker admits to hanging with Lucas quite frequently these days. "He is so funny—so deeply hilarious. He leaves messages on my phone that are screamingly funny, silly things like 'Hello, this is your grandfather.' But he has been saying that as long as I have known him," she says, realizing with a visual jolt that their friendship is now over a decade in length.
Parker acknowledges that she has known too many who have died from or are currently living with AIDS—as is the case for most stage actors. These include two close college roommates who have passed, as well as a relatively new friend, a female poet (whom Parker regards as brilliant) named Tory Dent, who is currently battling it. "She wrote this amazing book of poetry called What Silence Equals. I had read it and really wanted to meet her, but whenever I was in town she'd be too sick and just as I'd leave town, she'd get better. Finally I got to have dinner with her, and she is so beautiful! She's writing a book of memoirs, but can't find a publisher who'll take it. I'd say that's a form of AIDS-phobia, wouldn't you?"
Overwhelming anguish has clouded the lives of many of us as our friends continue to die from the effects of HIV/AIDS. And, of course, it has had much the same impact on the young actress. "Well, how can it not?! It can't help but change you rearrange everything that is inside you. I was walking down Fifth Avenue and I saw this guy in his late twenties, walking with his mother and his lover. You could tell the whole story at a glance. The mother was taking her son by the arm as he could barely walk, and the lover was right with them too, near this retaurant that was the last eatery where my parents had lunched with Norman—the last time they saw him. So it was a strange little irony. My mother and Norman really loved each other. He used to do the most incredible imitation of her!" she says, visibly trying to hide the pain while laughing out loud at the memory.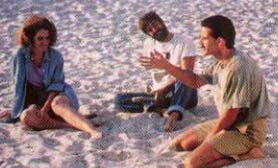 As any talented actor is capable of doing Parker has incorporated her own experiences and the pain associated with AIDS into the acting arena. She has played two HIV-positive characters: in Hallmark Hall of Fame's A Place for Annie and in the highly acclaimed road-comedy/drama, Boys on the Side (opposite Whoopi Goldberg and Drew Barrymore). "I especially liked that [Boys] was a full, complete story. [And] that my character began somewhere and went somewhere. She made her journey and ended up very different. And although she dies at the end, her physical demise is taking place over the course of the movie. Other parts of her are growing and learning in oher ways, becoming bigger and brighter. Wiser, even." "The shoot took about three months, and Parker gained twenty pounds for the role. She recently completed production on Let the Devil Wear Black (opposite Jacqueline Bisset) and The Five Senses, to be released early next summer. In her spare time, she dates actor Billy Crudup, paints watercolors, and knits.
The writings of John Lennon, Maya Angelou, and Anne Sexton are in part responsible for Parker's values and distaste for prejudice. "I think it is just what I was taught while growing up—trusting that what is in your heart is correct—the stuff that enters your bones from early on. It also comes in through the way that you treat people, I think. It's really shocking to me whenever I hear someone say something homophobic." For Parker, living in a metropolitan setting also makes it a lot easier to avoid hearing rude things said about gays. "That kind of attitude is really foreign to me. It would be really hard for me to live in a world where that was the norm—hell, I'd be getting in arguments all the time!"