The keyword for Key West is – ACTION. On any given day, this tiny island is hosting large and lavish happenings. Perhaps it's the Food & Wine Festival, where top chefs show off their culinary skills, or Hemingway Days, a celebration of the legendary writer who lived here and wrote some of his classic works at his home on Whitehead Street. The event ends with a look-alike contest held at Papa's old hangout, Sloppy Joes. How about Chicken Fest, which pays homage to the free-roaming "birds of paradise," or the Underwater Music Festival where the sounds of music are heard, yep, below the sea?

For twenty-six zany years, Fantasy Fest has sparked some outrageous and innovative costumes. Think Halloween. Think Carnival. Think Mardi Gras – all wrapped in one. This year's theme, Delirious Dreams and Hilarious Screams, will be celebrated October 22 through 31, 2004. Think your costume is hot? Then enter the competition, Pretenders in Paradise, where glamour and glitz unite in fantasy fun. And why not bring your pet to Fantasy Fest? They, too, can compete and tail-wag with other critters in The Pet Masquerade and Parade.
For the gay visitor, of course, there's the annual PrideFest in June, with a parade, contests, parties, and lots of skin. Last year's PrideFest was historic for it marked the 25th anniversary of the rainbow flag. The creator, Gilbert Baker, aka "the Gay Betsy Ross," was given the task to construct a 1.25-mile long rainbow flag. With sewing machines zigzagging daily, he and other devotees pitched in to accomplish the mission. Their achievement was displayed at the parade. Proud citizens unfurled and stretched the vibrant colored flag down the main drag, Duval Street, from the Atlantic Ocean to the Gulf of Mexico. Talmadge Heyward captured the event in his poignant, touching documentary film, Key West: City of Colors. Even two original colors that had not been used for years were reunited – fuchsia and turquoise – giving the flag a total of eight stripes. Each color represents a different aspect: sex, life, healing, sunlight, nature, magic, serenity, and spirit.
Womenfest brings international women – and their friends – together to celebrate fun, freedom, culture, and diversity. The September function, which began nearly twenty years ago, includes water sports, art shows, comedy performances, and other activities.
If big, bawdy events aren't your fancy, celebrate in other ways. Key West offers diving, snorkeling, jet skiing, kayaking, parasailing, sailing or boating. Or take a bubbly journey through historic Key West on the renowned Gay and Lesbian Trolley Tour. You'll visit the homes of Tennessee Williams, Jerry Herman, and Elizabeth Bishop. Also included on the tour is the AIDS Memorial, which lies at the edge of the Atlantic Ocean. There are over a thousand names engraved on a black granite walkway with three poems set in stone by Tennyson, Gibran, and Hadas. For a special treat, when darkness descends, join Ghost Tours, a haunted walking tour led by a lantern carrying, top hat and tails clad guide.
Now, if solitaire is your game, don't fret. Snuggle up with a Hemingway novel in the lush gardens at the old Hemingway digs while you pet one of the sixty-one resident cats. Many of whom are the six-toed descendants of Hemingway's neighbors. Today the friendly felines are well tended by the staff. Another point of interest is the Butterfly & Nature Conservatory, where you can mingle with brilliantly colored butterflies. Over 1,000 butterflies from sixty different species fly in an enclosed greenhouse.
Your activity hasn't been mentioned yet? Wait. Other festivities abound! There are more annual functions, like, Biker Babe Tattoo Contest, Corn Queen Pageant, Bears in the Keys Week, Full Moon Celebration, Yachting Race Week, Kelly McGillis Classic Women and Girls Flag Football Championship, Bed Races, and Drag (Queen) Races. And on the monthly calendar one can attend Cinema Shores Movie Night Thursdays under the stars, bet your luck on Sunday Gay Bingo, or make "Mary" at a Wreckers Levi/Leather Party, a different theme each month. Did I mention Key West's famous electrifying sunsets that are ritually celebrated every night?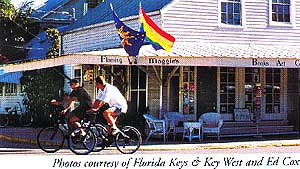 No matter where you cruise in Key West, you will see a bumper sticker that reads "One Human Family," the official philosophy of this little island. These stickers can be seen all over town; in fact, they have even been distributed internationally. Due to the live-and-let-live, come-as-you-are attitude, all kinds of people are not only accepted, but warmly welcomed.
There's something for every taste and passion in this mini-paradise. For more information, visit www.fla-keys.com/keywest or call 888/334-2257.
For more information check out this website: www.fla-keys.com/keywest