BEING A GRANDMOTHER is wonderful," beams Shirley Jones. At 73, she cuts a beautiful and graceful figure and she radiates a youthful appearance. Shirley definitely sets the bar higher for the ideal when it comes to grandmotherhood. "The lovely thing about being a grandparent is you can just love them to pieces, spoil them–and then give 'em back! You don't have that extra responsibility. You just have fun, FUN."
"It's inspiring for me to watch how they grow, and who they become through the nurturing of both their mother and their father," she says. "When you have your own children, you don't really take time to look at that very much or have any kind of foresight." Now, Shirley can step back, observe, reflect and, at times, give sage advice. "I'm old enough now to have been around kids long enough that I can say to my sons, 'You better watch that because that's gonna change in a minute and he's gonna have a different attitude about sports'–or whatever." She stops a moment, gently cocks her head, grins and says proudly, "My kids call me every now and then to ask advice."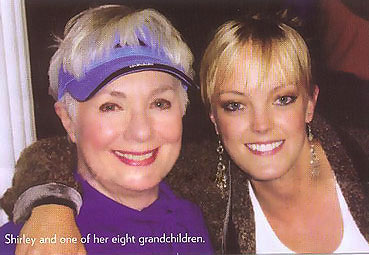 Shirley has eight grandchildren. And as for their parents, well, you just might have heard of them: former teen idol David Cassidy, who has a 15-year-old son, Beau; David's brother Shaun, another former teen idol, who has five kids ranging in age from 25 to less than a year old; and Patrick, a Broadway and film actor, who has two boys, Cole, 11, and Jack, 8. Shirley's youngest son, Ryan is single.
Shirley first became a grandmother 25 years ago. "I'll never forget it. We were having Thanksgiving dinner, and all of a sudden I get the call from Shaun." Shirley adopts Shaun's harried voice at the time: "'Mom, we're in the hospital! She's about to be born!' Of course, I dropped the turkey, got in the car and drove to the hospital. Caitlin was born on Thanksgiving Day." Ever since, Shirley has been present at each grandchild's birth.
Not long ago, Shirley experienced a touching moment with one of her grandkids. Juliet (Shaun's daughter) was performing in a stage revue called Babes of Broadway at a local arts center. "She said, 'Grandma, you have to come and see the show. I have a surprise for you.' I said, 'Naturally, I'm going to come.' That evening, Juliet marches onto the stage singing 'Good night, my someone, good night.' I fell off the chair! The tears started to stream. It was such a surprise and she was wonderful." Of course, Shirley, who played Marian Paroo, sang this song in The Music Man. Another grandchild, Beau, had the lead in a local production of The Music Man!
The Music Man is only one of the memorable characters Shirley Jones has brought to life during her film and television career. There's Julie Jordan in Carousel, Lulu Bains in Elmer Gantry, for which she received an Academy Award, and, of course, Mrs. Partridge in the pop '70s TV series The Patridge Family. She admits, however, that after parenthood, being a grandparent has been her favorite role.
Today, Shirley tours the world performing in concert. Bob Hope called her "The First Lady of American Song." She has garnered and maintained this distinct honor over the years even though she can't read a musical note. She does the occasional guest spot on such TV shows as Sesame Street, and in 2006 she received an Emmy nomination for her portrayal of Aunt Betty in Hidden Places.
In 2004 Shirley joined her son Patrick on Broadway in 42nd Street. "We had such a wonderful time," she admits. Shirley and Patrick lived in the same apartment building, and Shirley had a fourth-floor walkup. Interestingly enough, when Shirley was filming The Music Man in 1962, she was pregnant with Patrick. At one matinee of 42nd Street, Patrick's son, Cole, was present. "I remember we were coming out of the theater and there was a whole crowd of people waiting for autographs. Cole, who was then about 8 or 9, was standing there watching people come up to me with pictures to sign. He said [she imitates a young voice with an attitude of wide-eyed wonderment], 'You're very famous, aren't you?'" Shirley laughs, "Wasn't that cute? I said to Cole, 'Well, I guess so.' He said, 'Ya know, I thought you were, but now I know you are, Grandma.'"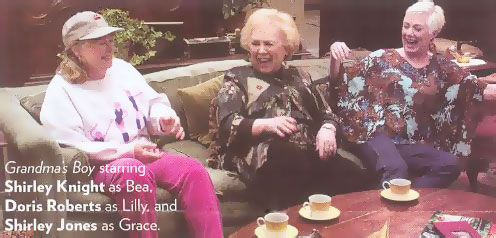 Does Shirley like being called Grandma? "Yes, I do!" she says vehemently. "I don't like being called anything else. I'm a grandma! I want to be called a grandma! I don't want to be Nanny, or Nana or Grammy, and I don't want to be called by my first name. I hate that!" She cringes. "I'm very old-fashioned about things like that. I about had a nervous breakdown with Cate and Jake," she recalls, "because they weren't calling their uncles Uncle Pat and Uncle Ryan. I let them know that that was inappropriate."
Speaking of "Grammy," that's what Shirley actually called her grandmother, who helped raise her back in Smithton, PA. Grammy, who was the matriarch of the family, lived to be 97. "When I married, the first thing I did was take Jack [actor Jack Cassidy, her first husband] back to meet her. And after my first-born, Shaun, we went to see her and had a four-generational picture taken. She was a strong lady, and I had a close relationship with her."
Close relationships are an indelible part of Shirley's life, and family is extremely important to her. Five years ago, Shirley and her husband of 30 years, actor/comedian Marty Ingels, sold their long time home in Beverly Hills and moved to Encino in the San Fernando Valley just to be closer to their kids and grandkids–who, thankfully, are carrying on Shirley's legendary talent.