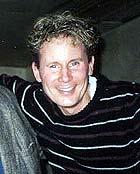 Since 1997, Dann has served as Senior Editor/West Coast Editor for A&U (Art & Understanding), a national monthly magazine with a circulation of over 220,000, which is devoted to the art and culture of people affected by HIV/AIDS. His chief area of responsibility has been entertainment and travel. In addition, he created PopQuiz, a light-hearted celebrity Q&A for the back page, and writes two monthly columns: Ruby's Rap, where he assumes the character of a wizened, comical, sassy female reporter (she has become a very popular part of the magazine), and Correspondences, which focuses on international affairs and travel. Dann has been a world traveler since he was thirteen.
Dann has interviewed more than 100 notables that include: actors, authors, artists, dancers, doctors, directors, politicians, military personnel, musicians, judges, religious sect, and human rights activists. Among the interviewees: Dustin Hoffman, Maya Angelou, Ron Reagan, Elizabeth Taylor, Whoopi Goldberg, Gloria Estefan, Queen Latifah, Bobby Shriver, Judge Marilyn Milian, Sylvia Browne, Julie Andrews, Shirley MacLaine, Susan Sarandon, Jamie Lee Curtis, Dr. Deepak Chopra, Carlos Santana, Phyllis Diller, Erin Brokovich, and Tony Hawk. Dann's interviews have a "talk over the back fence" flavor, yet he always endeavors to dig beneath the surface in order to reveal his subject's inner life—plainly, he likes to snoop!

As Senior Editor, Dann has broadened the reader base internationally by conducting interviews in Central America and Europe and Asia. He also covered the current political and social issues relevant to each country, resulting in such articles as, AIDS in Costa Rica, Germany, Switzerland, Holland, and Britain. He works closely with each country's Consulate General and the Ministry of Health.
"Senior Editor" does not fully describe Dann's duties and responsibilities at the magazine. He is a multitasker, and works independently from the main office in Albany, NY. Indeed, he is the West Coast office—no assistant, no secretary. Dann shepherds the cover stories from their inception, through the interview to publication, which includes extensive research, coordinating the photography, the art direction, and of course, promotion and publicity. Dann is dedicated and passionate about his work and each project he undertakes. Networking, tenacity, and perseverance are his watchwords.
Besides A&U Magazine, Dann's articles have appeared in numerous national publications that include, In Touch, Q San Francisco, Filipinas, Working World, In Los Angeles, Alternative Family, Grand Magazine and Gay Travel News. His Danny Glover interview A Man of Words: A Man of Action is included in Human Sexuality published by McGraw-Hill, and in Alan Hall's book, Resting In Peace Is Optional, an excerpt of Dann's interview with Connie Francis appears.
He has written three books: Life Take One (a men's health and lifestyle resource), Straight Out (profiles of gay role models), and Facing The Fight (celebrities against AIDS), in which he co-authored with Dale Reynolds. Dann has also co-written a television sitcom with Kelly Danyluk, Under One Roof.
Dann holds a Masters of Science degree in counseling from California State University Northridge and a Bachelor of Arts in performing arts from American University, Washington D.C. He also attended Ohio State University, Columbus; Ohio University, Lancaster; and Centenary College in Shreveport, Louisiana. In the past twenty years, he has also provided psychotherapy in various facilities around the Los Angeles area.
And to think that Dann started out as a Page at CBS Television City...!