The First Lady of Hip Hop raps with A&U's Dann Dulin
about condoms, High School Aids Awareness,
and getting teens scared straight!
Eve is not who you think she is. Beyond the sassy, rugged, hip-hop exterior lies a feminine damsel who loves the movie The Sound of Music and adores reruns of I Love Lucy. Although she's famous for her growling pit bull attitude, and even sports a claw print tattoo on each breast, her best friends are her two little Yorkies named Spunky and Bear. Eve may be the only femme fatale at Ruff Ryders–a New York-based recording label—but she is more than just one of the boys. Eve is a self-confessed girl. "I love to play with my hair, and my nails. I'm a shopaholic. I love shoes, and accessories—I'm a clotheshorse."
Whether Eve is dressed to the nines in Chanel, Versace, Gaultier, or Gucci, she is a mega trendsetter, though she does think there should be some conformity when it comes to what people wear—sexually, that is. "It doesn't take that long to put on a condom!" she pleads, speaking via telephone from her hotel room in Chicago where she is shooting her second movie, The Barbershop, a comedy starring Ice Cube. (Her first movie, which should be a summer 2002 blockbuster, is a spy thriller called XXX with Vin Diesel and Samuel L. Jackson.) "No matter how raging your hormones are, no matter how hot and bothered you are, there has to always be that voice in the back of your mind that says, 'This person may be infected.' You have to take the time to think!"
This homegirl can't imagine feeling so lackadaisical about a tragic disease, and it distresses her to hear about the high numbers of HIV infections not only among African-Americans, but teens, as well. "People seem to really disregard the AIDS epidemic these days. AIDS is out there!" she fervently announces. "Being an infected teenager along with all the other teen pressures—you don't even want to put yourself through that."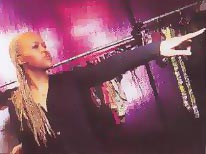 Hopefully, teens will listen to Eve's message with as much interest as they listen to her music. Eve's 1999 debut album, Let There Be Eve—Ruff Ryders' First Lady, sold two million copies and came in at number one on the pop, rap and urban charts. Her second and latest CD, Scorpion, is more ambitious and showcases her versatile pipes, which can belt out gospel, reggae, as well as rap. The disc is a mother lode of talent and includes contributions from Dr. Dre (her former mentor), Teena Marie, Drag-On, DMX, and Steven Marley.
Eve has brightened the television screen, as well. Over the past year, she has been a guest on Politically Incorrect, Late Night with Conan O'Brien, and Saturday Night Live, though she still looks forward to sitting alongside Jay Leno on The Tonight Show. "Being on that show means I made it," she remarks excitedly, indicating that 2002 will be the year she conquers stardom. This gal is determined, though little over a year ago she suffered a meltdown. How does she deal now with the career pressures? "Well, I learned a lot from that period. Most of the stress came from letting things build up. I now deal with situations as they come." She pauses to reflect. "Also, I pray a lot, and I have positive people around me. They are a great support team!" she says confidently.
Though presently reveling in her recent Grammy award for Best Rap/Sung Collaboration for "Let Me Blow Ya Mind" with Gwen Stefani, Eve's excitement is mixed with concern about her peers and the AIDS epidemic. "I think most of the rappers I hang out with seem to use condoms. Some don't though. And as far as I hear, most of the women are making their men wear condoms. Those who don't wear condoms, I think know about AIDS but they think it can't happen to them. They feel invincible. They're in denial. They don't want to deal with it," she says.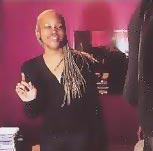 As AIDS and the African-American community increasingly intersect, Eve is part of a growing trend that sees hip-hop culture as an important medium for HIV outreach. Recognizing the power and popularity of music as an educational tool, the Rollins School of Public Health at Atlanta's Emory University has undertaken a study—Project Hip Hop—to develop ways to use hip-hop music as a means of delivering health information to African-American adolescents. In March 2000, Bush Radio in South Africa launched its youth AIDS campaign, which uses the power of radio, hip-hop, and live performance to build a higher level of awareness about sexuality among teens.
Black Entertainment Television (BET) has also joined the ranks and launched a national HIV/AIDS awareness campaign called Rap-It-Up to educate African-Americans on the epidemic and to encourage safer sex practices. Rap-It-Up provides up-to-date HIV/AIDS information on its interactive Web site and it also mantains a hotline number (see end of article). It produces PSAs, provides a mobile health service to inner city and urban communities, which includes HIV testing, and conducts teen forums in schools nationwide. "We also sponsor events," adds Jackie Willis, Vice President of Public Affairs, and Events at BET. "Presently, Ja Rule is our spokesperson for a Rap-It-Up Auction that begins on May 18th and runs for about six weeks. He's also done PSAs for us. Our goal is to get as many musical artists involved with Rap-It-Up as we can. Eve will soon be working with our campaign and we are very excited about that, especially since our main focus is women. Two communities that are most affected with the virus these days are African-American women and women of color."
Case in point: Several years ago, Eve's friend, Trina Patterson, lost her forty-six-year-old mother to AIDS. In fact, Eve points out that Trina is soon to have a book published, Diary of a Fashion Sylist, where a portion of the proceeds will benefit a memorial fund set up in her mother's name and also SisterLove, Inc., an HIV/AIDS organization for women.
Eve first became aware of AIDS in her high school's sex education class. "We were taught about STD prevention but there wasn't much talk about AIDS. It was not fully explained," she says, disgruntled. "I attended Martin Luther King High School and we were told that it had the highest rate of young people infected with HIV." Born in 1978, Eve Jihan Jeffers was raised by a single mother, and lived in the Philadelphia projects until she was fourteen. In Eve's preteen days she was part of a girl band, Dope Girl Posse, that performed around the local talent circuit but then she turned to rap.
After high school she landed a one-year record contract with Dr. Dre's Aftermath imprint in Los Angeles. She moved to the West Coast, turned eighteen, and debuted as Eve of Destruction on the Bulworth soundtrack. The following year, though, Eve was back in Philly with no record. Soon after, she signed with Ruff Ryders. Between deals, she briefly performed as a stripper in New York City, which was definitely not a highlight. "I really didn't enjoy it, and when I left, I felt much better," she recalls. Eve eventually met fellow artist/producer, Stevie J. For two years, sparks ignited between them until they cooled it last summer. When she's not on the road, Eve resides in her home in New Jersey, just twenty minutes outside New York City. About her single life she asserts, "I'm chillin' and lovin' it."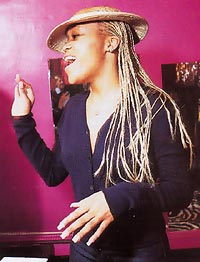 Eve won't have much time to chill after The Barbershop wraps, as she returns to the studio to record her third album. She hopes to have it in stores by the end of summer. And since Eve has a mighty passion for travel, her thoughts will then turn to Europe. "I would just love to backpack around for a few months. I love experiencing the different cultures, eating new foods, meeting various people. It fuels me personally and musically." Eve has a dream to cut a record across the great pond with a Euro-artist.
On either continent, Eve is known for her classy eclectic looks, so I casually ask her what her hair color is today. She explains that because of the character she plays in the movie, her hair is styled in a weave that trails down to her shoulders and is streaked in brown and blonde. She likes it, though knowing the Eve tradition, it will soon be red, or blue, and/or white. Another Eve trademark is her breast tattoos. "And I'm thinking about getting more tattoos, though I really don't need anymore," she laughs, then exclaims, "My mom would kill me!" And for the first time in print, though she hesitates to say, Eve reveals that she has one pierced nipple—"I love it but it was a lot of pain." Does she have any other tattoos? Yes. A flower; a scorpion; and an apple with two symbols that spell out "Strong Woman."
True to that motto, Eve presses the point that we need stronger AIDS education programs in our high schools. And she has her own take on its presentation: "The classes need to be vivid. They should bring HIV-positive people into the class to speak to these kids and explain to them what it is like to be infected; what it is like to take a bunch of pills everyday. Perhaps the students could also view a documentary about the journey of an HIV-infected person: from healthy person to an HIV-infected person to an AIDS diagnosis. The film could portray the brutal daily ritual they go through. Perhaps students could visit a hospice and see firsthand what it is like to die from AIDS," suggests Eve. "This kind of curriculum will definitely make a lasting impression on the student. You know how they have these..." She stutters for a slight moment as she searches for the right word, then continues: "Scared Streaight programs? We need more programs like this but about AIDS. AIDS is a horrible, horrible, horrible problem and at this point we need to take drastic measures to rid society of this disease." With Eve's popularity and role model status, I propose to her that she produce and host this kind of documentary because it would be valuable to teens–they would definitely take note. Eve is quite receptive and for a few moments we brainstorm ideas for the series. "People are still in denial," she declares with surprise. "We need to go strong and pound it into everyone's head." And what would this bombshell yell to these kids on her new program, AIDS: Scared Straight? She replies in a stern, rhythmic beat: "Listen up! Don't be stupid. Protect yourself at all times. Avoid a life sentence, and use a condom. Use two!"