Want to be a legend? Then contact the legend maker, Steve Cutler, founder, owner, and curator of The Casino Legends Hall of Fame in Las Vegas. His biannual induction ceremonies bring celebs from all parts of the globe. Recent inductees include the Smothers Brothers, Jimmy Durante, and Rose Marie. Steve, a former Dealer and Executive Casino Host, has collected Casino memorabilia since 1972 and has garnished his museum with over 100,000 items. Among his many treasures are Lena Horne's 1951 paycheck from the El Rancho Vegas, original LeRoy Neiman paintings, Liberace and Elvis costumes, and the largest collection of casino chips in the world! Soon, the classic Rat Pack film Ocean's Eleven will be released on DVD, and part of the bonus footage includes a documentary featuring interviews with Steve, Frank Jr., and Tina Sinatra. Steve steps away from the daily glitz and confides that he loves freedom, Lucy , and groping.
What city did you travel to on your last trip?
San Francisco.
Did you ever steal anything?
Yes.
Having been a part of this era of AIDS, how has it impacted you?
I have become 100 percent monogamous.
What are you addicted to?
Freedom.
When you're out on a date, where do you stash your loveglove, in your pocket, purse, glove compartment, or backpack?
I don't use them.
If you could change one historical event, what would it be?
The birth of Adolf Hitler.
What do you like least about your appearance?
My weight.
How has the AIDS epidemic changed the way you think about life and death?
Life is very fragile. Enjoy every minute.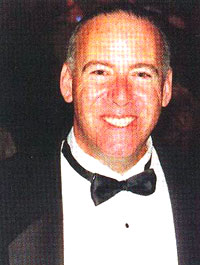 What historic era or event would you like to visit?
There is no time like today. I live in the now.
Name one of your guilty pleasures?
Groping my wife in public.
Where do you go to rejuvenate?
The ocean by Cabo San Lucas.
Name one of your bad habits?
Sometimes I am too opinionated.
If you had a choice to have a dinner date with anyone from history, who would it be?
Jesus Christ.
If you wrote a book today about your life, what would the title be?
The Legend Maker.
What's your favorite sitcom of all time?
I Love Lucy.
What can we do to help during this ongoing HIV/AIDS crisis?
Educate. Educate. Educate.
When you get into bed at night, do you wear pajamas, nightshirt, undies, or nothing at all?
Nothing at all.