This rugged, twenty-seven-year-old, Truckee, California, resident and Alpine skier is unstoppable. He's the current World Champion in the Super G; has two World Cups and three U.S. national titles; is ranked tenth in the world in downhill and tenth in the world in Super G; and is a world jet-ski champion. During a break from training, Daron shares with A&U that he likes smiley people, would like to break bread with Billy the Kid, and has a soft spot for kids.
If you won a million dollars, how would you spend it?
I'd buy land and build an exclusive motocross track for all my bros. And with the rest I'd put some into a house and support kids in Tahoe whose goal is to be an athlete.
Having been a part of this era of AIDS, how has it impacted you?
It has made me more aware of the problem and difficulties people face dealing with the disease. Through education all my peers and I know the precautions to take to avoid this life-threatening disease. I admire the people who are making a difference, looking for a cure for AIDS, educating people about the disease, dealing with it in a strong way, and forging ahead with their lives.
Which living person do you most admire?
I admire anyone who is positive and faces challenges iwth a drive to succeed. Also people who love life and smile.
When you're out on a date, where do you stash your love glove, in your pocket, glove compartment, or backpack?
Not an issue now, but I used to stash it in my sock.
Would you rather have a new VW Toon car, or a Turbo Porsche 911?
I'd rather have a Chevy Avalanche.
Have you tried any alternative therapies as opposed to Western medicine?
Yes, and I like them. Acupuncture, yoga, meditation, visualization (all the time), and I love massages. I have an open mind and believe that I benefit from all of these.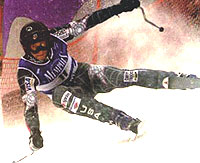 How has the AIDS epidemic changed the way you think about life and death?
Life is precious. Live it to the fullest with no regrets.
Would you rather have a Big Mac or an array of healthy Chinese vegetables?
Veggies.
What brand of water do you drink?
Pure, pristine, fresh Tahoe water.
Name one of your bad habits.
I waste time doing things in my room.
If you had a choice to have a dinner date with anyone from history who would it be?
Billy the Kid.
If you wrote a book today about your life, what would the title be?
How Bad Do You Want It?!
Who is your favorite star?
Al Pacino.
What can we do to help during this ongoing HIV/AIDS crisis?
Fight for a cure.
When you get into bed at night, do you wear pajamas, nightshirt, undies, or nothing at all?
Nothing, gotta feel free!